Frequently Asked Questions
Stuart Cove – Voted Number 1 Dive Operator in the Bahamas!

Scuba Diving
Logistics
Miscellaneous
What Are The Water Conditions Like?
New Providence, and especially the South West side of the island where we are located enjoy great water conditions year round. Because of our geographic location on the island, if bad weather occurs the island itself acts as the lee to protect the water around many of the dive sites.
Visibility remains clear and consistent year round. This is one of the things that has made Nassau the "Underwater Movie Capitol" of the world. If a storm should pass and stir things up the sand in our oceans is quite heavy and sinks rapidly. In addition, our deep wall, the "Tongue of the Ocean" will draw down much of the settling sand. As a result our reefs receive protection from debris even when a storm passes.
The water temperature change seasonally. Our seasons are just the same as they are in the United States with the winter months being colder than summer. A rough breakdown of water temperatures would be as follows:
| | | |
| --- | --- | --- |
| January-March | 72-74f | 3mm or 5mm full suit |
| April-May | 75-78f | 3mm full suit |
| Jun-Aug | 80-85f | No wetsuit required |
| September-October | 78-80f | 1mm – 3mm suit |
| November | 78-73f | 3mm-5mm |
| December | 72-74f | 3mm-5mm full suit |
As always, you should base your thermal protection needs on your sensitivity, the number of dives you are going to perform each day, and the number repetitive diving days you will participate in.
What Goes On During A 'Shark Dive'?
First, you should know that all of our Shark Adventure dives are 2 tank dives.
On your first dive this will typically be a free swim with the sharks at a dive site named Shark Wall. This wall is located adjacent to one of our feeding sites, so when the boats pull up, the sharks know to come looking for food. On our first dive, our goal is to simply enjoy a beautiful wall dive and get use to seeing sharks in the area.
After a brief surface interval we will begin our second dive. This is our feeding dive. During this dive, we will place divers in a semi-circle on a sand bottom located in 35-40 feet of water. Once everyone is comfortable on the bottom, our feeder will enter the area with the bait box. From there he/she will begin feeding the sharks from the tip of a pole spear. With feeding going on, this dive can get really exciting as the sharks seek out their free meal. By feeding from the tip of a pole spear we have the ability to place a shark right on the lens of your camera…. if you so desire.
What's Included With The Diving?
All of the dives we offer include tanks, weights and weight belts. In addition, the following items are available to make your dives more enjoyable at no additional charge:
On board the boats:
Ice Chest with ice.
Fresh Water.
DAN 02 Kit's
DAN First Aid Kit.
On the Docks
Freshwater showers and bathrooms.
Gear rinse tanks.
Overnight gear storage rooms.
DAN First Aid Kit.
What Equipment Can I Rent
?If you don't already have your own equipment, the following items are available for rent:
Masks / Fins / Snorkels
BC's
Regulators
Wetsuits
Computers
To learn more about our rental equipment, visit our Rental Equipment page on this site.
What Is A Typical Dive Profile?
Once you have boarded your boat and before leaving the dock, your crew will discuss several desired dive sites. If you have suggestions on particular sites or types of dives you want to do this trip, be sure to speak up. Based on your suggestions our crew will recommend specific sites to visit during this trip.
Typically our first dive will be a deep dive following an 80 ft for 30 minutes profile. Most likely this will be to one of our sites along the Tongue Of The Ocean wall. This wall runs for 120 miles and reaches 6000 ft in depth. (No – you don't have to go that deep.) At your deepest point we will reach 80 feet, with an average depth being 50 to 70 feet.
Once everyone is back on board we will move the boat to your second site. After an appropriate surface interval our staff will brief the second dive.
Your second dive will be either one of our shallow reefs or one of our wrecks. A typical profile for this dive will be 30 to 50 feet for 50 to 60 minutes.
How Do You Mix Beginners And Advanced Divers?
All boats with divers have a minimum of two crew members. One is an in-water Divemaster and the other crew member remains on board to assist divers. On the 1st dive of all 2-tank trips (the deep dive) we will have a Divemaster in the water to assist other divers and to lead portions of the dive. At your second (shallow dive) the Divemaster may or may not enter the water (depending on depth). However, if you requested, he/she will lead a dive here as well.
At Stuart Cove's we respect the effort you put into earning your certification card and respect the qualifications you earned. As such we expect that all divers who present themselves as certified divers are capable of executing and successfully navigating a dive as a buddy team without any assistance from an in-water Divemaster. If you are not confident in these skills, then we would recommend hiring a private Divemaster who will guide and navigate your dive for you.
All of our dives start with a briefing where our Divemaster will share with you a description of the site, local area, environment, and emergency procedures.
Our in-water Divemaster is there to assist divers observed in distress and to lead a dive for any buddy teams who desire to follow him/her. He/she is a Divemaster to everybody and buddy to nobody. His/her role is to enhance the pleasure of the dive by using his/her first hand knowledge of the area.
Divers who are experienced and comfortable with their own navigation are welcome to go off on their own. During the dive briefing a suggested profile will be described along with a "be back" time. If you perform your own navigation, all we ask is that you are back on the boat by the specified "be back" time.
Divers who want to perform their own navigation and where both buddies have a computer, are welcome to go where they want and determine their own profile as well. All we ask is that you go no deeper than 100 ft (if you and your buddy have a computer) and are back on the boat by the specified time.
When possible, we try to separate divers by experience levels, and offer two options, an more 'experienced' boat trip, versus a beginner diver trip for divers that are new, or not been in the water for an extended period of time.
What Do You Offer For Nitrox Diving?
We offer both the Enriched Air (Nitrox) class and Nitrox fills.
All of our fills are hand blended or produced using a membrain system from Undersea Breathing Systems and incur the following surcharges:
Enriched Air 36%
Enriched Air 32%
We also have an "unlimited" program.
How Do I Get Around?
If you have booked a hotel package through Stuart Cove's, we offered you the opportunity to purchase airport transfers. If you chose this option, then follow the steps below. If you did not, then skip to the next paragraph which talks about taxi services.
Arrival
Majestic Tours has an agent at the airport from the first flight to the last flight each day. Exit customs and look for the taxi line, just to the left you will see the tour buses. Ask for a Majestic Tours Agent.
Departure
You must confirm your return in person at the Majestic Tours desk in your hotel, or by calling Majestic Tours at 242-322-2606, 2607, 2608, or 2609. Phones are answered 8am to 5pm, 7 days a week.
When you speak with the rep on the phone or in person, they may give you a confirmation number. Please write it here: ____________________ (If no confirmation number is provided, write down the person's name and date and time you spoke with them.)
Your return MUST be arranged 24 hours prior to when it is scheduled to occur. Due to the possibility of flight changes, returns can not be arranged or confirmed sooner.
Return pick-ups are usually 2-2 ½ hours before your flight time in order to allow time for clearing US customs and immigration. (This is done in Nassau so that your flight arrives in the US as a domestic flight and not an international one.)

Taxi
Upon your initial arrival to Nassau, immediately upon exiting the customs area you will see the taxi line. Simply take one of our local taxis and tell them what hotel you will be staying at. The ride will take about 10 – 15 minutes and should cost you $18-24.00 (additional people and luggage will be a bit more.)
At your hotelOnce you are at your resort, please call the dive shop (362-4171) from 7:30 am to 8:00 pm to verify your pick-up time and your hotel room number, incase we need to contact you prior to arriving at the dive shop.
Where Are You Located?
Stuart Cove's Dive Bahamas is on property at the South Ocean Golf and Beach Resort. Located on Southwest Bay Street. This location is on the south west corner of the island of New Providence. The city of Nassau is located catty-corner on the north east corner of the island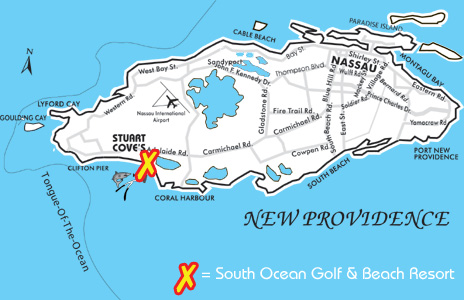 Transportation times to different areas via taxi are as follows:
Nassau International Airport – 10 minutes
Cable Beach Crystal Palace Casino – 20 minutes
Downtown Nassau / Straw Market – 30 minutes
Paradise Island Atlantis Casino – 45 minutes
What Do I Do With My Kids?
Most of our partner resorts can assist you in arranging baby sitting services for younger children.
If you have teens (ages 10-15) consider having them learn to dive! When they become certified divers, they will be eligible for Stuart Cove's Diving Programs.
Younger children (ages 4-10) are welcome aboard the boats as snorkelers or bubble watchers. All we ask is that a parent or guardian remain on board to supervise them. Children under the age of 4 are not permitted on the boats.
What Movies Have You Been Involved With?
Stuart Cove began his professional diving career as a safety diver / stunt diver on many of the Hollywood films that shoot their underwater sequences in Nassau. Since then he has specialized in offering underwater film production support services as one of the specialties of Dive Bahamas.
Our most visible picture is "Flipper" a full length feature film, which was shot in the summer of 1995. In this film the fishing village may look a bit familiar and it should, its our dive facility all made up. In addition, several of our boats and staff appear throughout the movie.
Other film credits for Stuart Cove's include:
Into The Blue
(2005)
After The Sunset
(2004)
Open Water
(2004)

(IMAX 2001)

(2001)

(1999)

(1999)

(1997)

(1997)

Assult on Devils Island

(TV, 1997)

(1996)

(1987)

(1985)

(1984)

Wet Gold

(TV, 1984)

(1983)


(1981)
Besides Hollywood films, Stuart Cove's has become internationally known for our shark dives. As a result many film documentaries have been shot at our dive sites as well. One of the ones we are most proud of was with National Geographic where we documented on film for the first time the phenomenon of tonic immobility. In essence, when we grab the shark by the tail and flip it on it's back, the shark becomes paralyzed for a few moments. We discovered this while routinely removing fish hooks from the mouths of silky sharks.
What Are We Learning From Sharks?
The main purpose of our shark dives is observation, the first step into scientific discovery. Over the 50 years we have been scuba diving with sharks, there has been a lot of confusion and misunderstanding. As a direct result of these organized shark dives, we have learned more in the last 5 years than in the previous 45. Other than providing a food source, Stuart Cove and his team are doing everything possible not to interfere with the natural behavior of the sharks. You are cautioned that these are observations and not conclusions. These behaviors may not apply to sharks of different species in other parts of the world. Often what we are finding, is contrary to what we previously thought about sharks and occasionally, myths are being exploded.
Myth: Sharks are naturally aggressive toward divers.
Aggressiveness is one of the most complex and difficult of all shark behaviors to analyze. Ask any fisherman or spearfisherman and he will attest to the aggressiveness of sharks. Shark aggression toward scuba divers is extremely rare. They are normally very cautious around divers in open water. We are finding that shark behavior toward divers is directly related to the diver behavior toward sharks. The most dangerous shark underwater is one that has been caught by line or has been physically harassed in some other way.
When sharks are being fed, they will search and "sniff" among divers for the food but, unless they are taught to do so, they will not normally feed directly from a diver.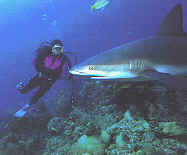 Myth: Sharks don't learn, but operate on instinct.
The previous answer already addressed this myth. We doubt very seriously that sharks can be taught complex behaviors like dolphins, but they sure learn bait box behavior in a short time. If we can modify a shark's feeding habits from what they have developed over millions of years, who knows? Perhaps we can teach sharks other things, too.
Myth:Sharks are unpredictable.
The catchword for sharks has always been that they are unpredictable. So is the family dog. Unpredictable is a relative word. We are finding, with both Reef and Silky Sharks, is that they are probably no more unpredictable than most wild animals and certainly are in line with most marine species. We have watched them display expected behavior time and time again.
Myth: Sharks will eat anything.
Maybe, if they're starving, but under normal circumstances sharks probably have more discerning tastes than previously thought. The well fed New Providence sharks have turned into real food critics. For example, they definitely prefer Wahoo over Barracuda and Barracuda over jacks. They like grunts and snappers the least. We find it interesting that our regularly fed sharks will not accept rancid food.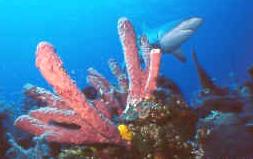 Myth: Free swimming sharks must keep moving.
Well, we know about bottom dwelling sharks such as Nurse Sharks and about "sleeping sharks," certain species that lie in caves, caverns, and potholes for short "naps". But, did you know that sharks can be put asleep? Although this is an induced behavior, I think it is one of the most important discoveries made by Stuart Cove and his team. "Tonic immobility," as it is called, is accomplished with a deft maneuver, holding and curving the shark's tail, turning it over and holding the dorsal fin with the other hand. The shark then relaxes and can be held still for a period of several minutes without harm to shark or diver.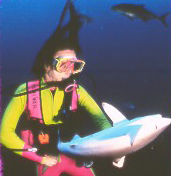 Myth: You can't dive safely with sharks when they are feeding.
This is the last great myth. Fifty years ago it wasn't safe to go diving because of sharks. Twenty five years ago it wasn't safe to go night diving because of sharks. Granted, if you told us ten years ago that groups of sport divers would be intentionally baiting and chumming for sharks underwater as an organized activity, I'm not sure I would have believed it.