About Stuart Cove's
Best Diving and Snorkeling in the Bahamas

Before you start learning more about our company, there is one thing I would like to clear up – There is no location, beach, or inlet called Stuart's Cove…(yet)… Instead the company carries my name (Stuart Cove), to reflect the quality and personal attention that you will receive from my staff and I each and every day. Most of our guests are already familiar with our world class recreational dive facility known as Stuart Cove's Dive Bahamas, which is located on the southwest side of New Providence, Bahamas. Throughout the history of our family business we have continued in a growth mode. Over time our recreational dive company has branched into several directions to better serve our existing clientele and reflect our personal interests as well.
---
The family of Stuart Cove companies includes:
Is the flagship of our interests and is advertised around the world. It is Nassau's leading full service recreational dive center, which is based on the southwest side of New Providence Island, Bahamas
Is located on the docks of Dive Bahamas and employ's a dedicated full time staff of professional underwater photographers and videographers.
This product offers snorkeling trips to the great shallow reefs and shipwrecks around New Providence Island. The Zambezi is a 50 foot custom built vessel that was designed from the hull up just for snorkelers.
Imagine being able to pilot your very own personal submarine around the reefs! That's exactly what SUB Bahamas offers. Now non-divers and even non-swimmers can experience the underwater world just like divers do!
Stuart Cove's Underwater Productions
Working on Hollywood feature films was my first professional diving job. Over the years we have built a reputation as being the top location in the world for underwater production work. While Michelle and I have always been involved in production work, we recently created this entity to begin putting a formal name with what we do.
Prior to obtaining the Dive Bahamas location, our recreational dive company operated out of the Lyford Cay Country Club. Today we still operate the watersports concession there and provide diving, snorkeling, water-skiing, and other watersport activities to the members of this private country club.
Blue Adventures at Paradise Island
In March of 2003 Stuart Cove's was awarded the contract to operate the watersports concession at Paradise Island's Atlantis Resort. Included in this are all of the non-motorized water toys found in the resorts internal 7-acre lagoon in addition to Learn To Dive programs offered on the pool decks, snorkeling in the lagoon, and even Youth Scuba programs as well.
Today, Stuart Cove's continues to strive for outstanding customer service and provide one of the most complete and modern dive centers in the world. Stuart Cove's Dive Bahamas is the largest full service dive operator on the island of New Providence. The operation can service upwards of 200 divers a day at full capacity and has a fleet of 8 boats, 5 of which are over 40 feet in length and are custom dive boats. The Dive Bahamas facility is truly a state of the art dive center.
Message from Stuart
I hope that you enjoy our web site and that it answers all of your questions regarding your upcoming visit to the Bahamas. If this site is not able to answer all of your questions, then I encourage you to contact our US Reservation Office. They will have the answers for you.
Let's go diving soon….
---
In recognition for the overall quality of our product, Stuart Cove's Dive Bahamas has been regularly recognized by the readers of Rodale's Scuba Diving magazine during annual readers poll.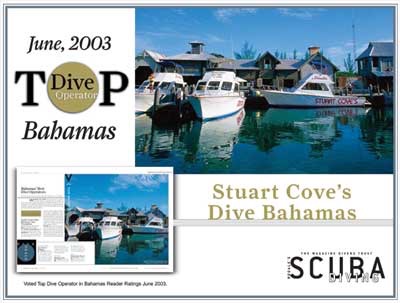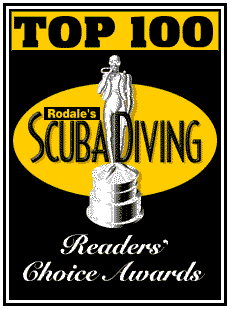 Our awards over the years

2002
#1 – Best Place To Dive With Big Animals
#4 – Best Wreck Diving
#12 – Best Dive Destination
2001
#3 – Best Place To Dive With Big Animals
#4 – Best Wreck Diving
2000
#2 – Most Popular Dive Operator
#4 – Most Popular Destination
#5 – Best Big Animals
1999
#4 – Best Big Animal Encounters
#5 – Best Wreck Diving
#9 – Most Popular Destination
1998
#1 – Worlds Most Popular Dive Operator
Stuart Cove's Dive Bahamas
#4 – Worlds Most Popular Dive Resort
South Ocean Golf, Beach, & Dive Resort
#6 – Best Overall Destination
New Providence Island
#2 – Best Big Animal Dives
1996
#1: Most Big Animals
Top 100 Overall – Stuart Cove's Dive Bahamas
Though hard work brought about much of our success in the past, today Stuart Cove's is exploiting several natural advantages of their state of the art facility. The first advantage is simply the physical location right on the ocean. No longer do boats have to motor 20 minutes through canals just to reach the ocean. The location is at the ideal geographic spot for a dive operator – on the southwest side of New Providence island. From the docks, many of the best dive sites are only a 5 to 10 minute boat ride away. Combine this with complimentary transfers from any hotel on the island and divers can enjoy the best diving on the island while staying at any hotel.