Breezes Nassau
Stuart Cove's Hotel Packages

Everything you could possibly want in a tropical getaway is at your fingertips, and it's all included. All your meals. All your drinks. All your entertainment. All just minutes from the airport, and just a short stroll from the excitement and nightlife of Nassau's glittering casinos. There's no end to the fun you can have at Breezes Bahamas. You'll find spectacular water sports in the clearest Caribbean waters you've ever seen. There's a rock-climbing wall, tennis and beach volleyball. There's even a circus school complete with flying trapeze to help take your vacation to a whole new level.
Breezes Nassau
Overview
Heaven is closer than you ever imagined. In fact, you can find a little piece of it just off the coast of Florida, in the islands of the Bahamas.
Here, amid a chain of 700 tiny islands, you'll discover a magical mingling of British Colonial formality and laid-back island attitude. The unmistakable crown jewel of the Bahamas is the Island of New Providence, home to Nassau, Paradise Island and Cable Beach. Miles of pristine beaches stretch out to an endless sea of turquoise, the clearest waters in the world.
There's also glamorous nightlife, world-class casino gaming, gourmet dining, golf, scuba, and, of course shopping, in everything from Nassau's famous straw market to the most luxurious designer boutiques. All within walking distance of wherever you are on the island.
Resort Highlights
Breezes Nassau Beach Resort Includes
• All meals, from breakfast buffets to dinner feasts.
• Even late night snacks. All you can eat, all the time.
• All drinks, from soft drinks to top-shelf premium brands.
• All entertainment.
• All tips & gratuities.
• All provided land and water sports and top-of-the-line equipment.
• All hotel taxes*
• And MUCH, MUCH MORE!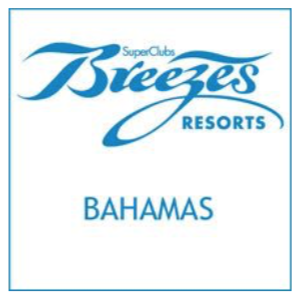 Breezes Bahamas welcomes singles, couples and families, 14 years and older.
Quick Facts
Rooms
The hotel has an eight (8) story West Wing and four (4) story East Wing. We have 391 air-conditioned rooms including 5 suites and 36 Oceanfront Deluxe rooms. All rooms include satellite TV, direct-dial telephones, CD players, iron & ironing board, coffee makers, hair dryers and in-room safety deposit boxes. King size or 2 double beds in each room. "Breezeway" for easy access from Garden-side rooms to the beach
Beach
Yes – ocean/beach front resort on Cable Beach
Pools
3 freshwater pools, including a Sip & Dip(sm) pool, play pool, main, pool and misting pool, poolside Jacuzzi. Come and indulge yourself where pampering is the order of the day and take away with you an unforgettable experience.
Restaurants
Premium cocktails and exotic tropical concoctions flow endlessly from bars located throughout the grounds. And there's always a quick snack sizzling on our outdoor grills. The buffets abound with tropical surprises and traditional favorites. Or make reservations for an unforgettable evening at one of our casually elegant restaurants. Try everything, and feel free to come back for more. It's all included. Breakfast, lunch and dinner are served buffet-style at our air-conditioned main dining room, Jimmy's Buffet. Dinner is also served in casual elegance at Martino's, our air-conditioned Italian Restaurant and Garden of Eden, where you'll experience a five course meal set in a tropical garden and seating for two. Snacks are available throughout the day at The Pool Grill.

GARDEN OF EDEN
After a busy fun-filled day, step into this lush, tropical restaurant and enjoy a relaxed dining experience at romantic, loveseat tables built for two. Here you'll be tempted by specialties that include Adam's Rib and Eve's Secret. And you won't be able to say "no" to our sinfully delicious desserts such as Decadent Chocolate and Forbidden Pie. Open for dinner every day but Monday. (No shorts, t-shirts or tank tops. Reservations required.)

MARTINO'S
Casually elegant, air conditioned Italian with antipasto bar (Open for dinner only 6:30pm to 10:00pm Tuesday to Sunday. Long pants required). Reservations Required.

MAIN DINING ROOM
Air conditioned, casual buffet dining (breakfast, lunch and dinner)

POOL GRILL
Snacks are available midday to early evening.

Amenities
Internet Access
At Breezes Bahamas we have internet access in our lobby at the Internet Cafe. 15 minutes USD$7.50; 30 minutes USD$12.00; 1 hour USD$18.00; 2 hours USD$36.00.

Weddings
The Hotel offers complimentary weddings which include: • Wedding Cake • Champagne • Marriage License • Non-Denominational Marriage Officer • Flowers • Witnesses are provided on request • Paperwork is handled by the couple

We require 21 days notice to complete the formalities.

Banquet & Conference Facilities
We can accommodate groups of up to 500 people, theater style, in our Sea breezes Ballroom. We will provide Public Address System, Microphone and Podium. Banquets and Private Reception can also be arranged.

Spa Services – Blue Mahoe
Treat yourself to a Massage or Body Scrub in our private room, or one of our booths located near the pool and at the beach.

Transportation
Dive Shop
• 25 minutes / 10 miles
• 8:00 am and 12:00 dive pick-ups via Stuart Cove's.

Airport
• 10 minutes / 5.5 miles
• Purchase transfers from Stuart Cove's

Cable Beach
• You Are Here!

Downtown
• 10 minutes / 4 miles
• Bus or Taxi Service

Paradise Island
• 25 minutes / 6 miles
• Bus or Taxi Service

Rating
Beachfront Resort
Package Prices
Prices

Cancellation Policy
• Prior to 14 Days Out – $25 per person cancellation fee.
• 14 Days Out – (M-F) $50 per person cancellation fee plus 2 night's room rate. (30 days for holidays)
• 7 days or less and No-Shows – $50 per person cancellation fee plus full revenue penalty at hotel. Unused portion of any package plans not taken by customer's choice are non-refundable.
Airport Transportation
Stuart Cove's offers the option to purchase round trip airport transfers with our transfer company – Majestic Tours. Round trip transfers are $20 per person. Alternatively, you may also choose to take a taxi from the airport. Taxi fares run between $20 and $24 (one way) depending on the number of people and amount of luggage.